COLOGNE, Germany: A peaceful protest turned violent in the blink of an eye today as German police turned water canon on the Patriotic Europeans Against the Islamisation of Europe (PEGIDA) march against the rape of German girls by refugees.
The protest had been called at short notice in response to the growing public anger felt across Germany at the apparently premeditated and systematic sex assault of hundreds of girls as they parties on New Year's Eve on Cologne and other German cities.
Despite taking place in multi-cultural west Germany, which has been the most enthusiastically accepting of Angela Merkel's policies of mass migration and scorning of traditional values over 3,000 took part — a record for an anti-migration march in this part of the country.
The demonstration started with speeches and socialising among those attending, an event that stood in strong contrast to the deafening and chaotic leftist counter demonstration just yards away.
PEGIDA has long prided itself on taking the moral high ground against their hard-left detractors and set out to maintain that reputation today. Loudspeakers announced alcohol, glass bottles, and face-coverings were banned.
Yet a small number of marchers – identified as football hooligans who had travelled to the demonstration from outside of Cologne – started to cause trouble after the speeches started and the march had begun.
A firework was thrown, which caused the police to halt the march while they dealt with the perpetrators. '
Kettling
' the troublemakers who had displaced others at the front of the protest seemed to inflame the situation which descended into water canon and pepper spray being deployed by officers.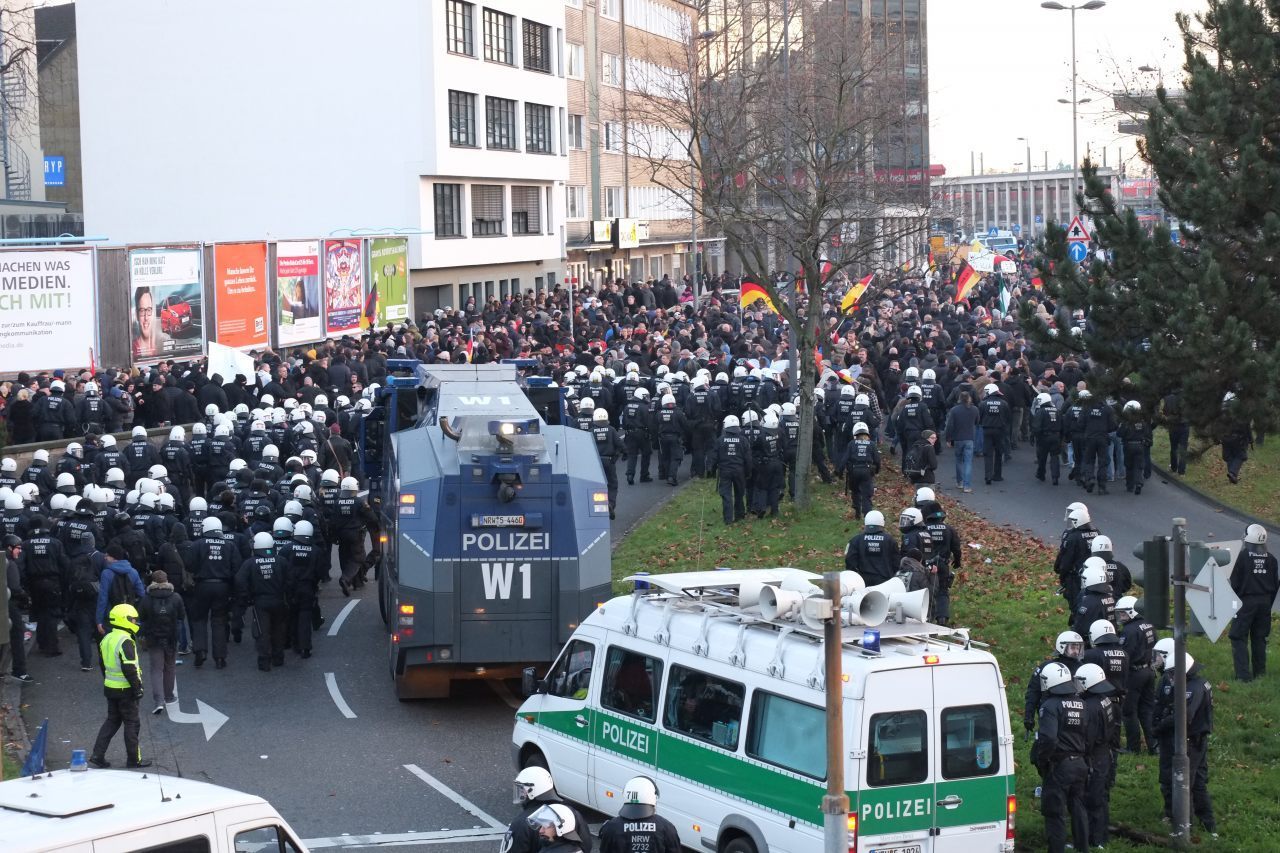 Breitbart London/Rachel Megawhat
Speaking to Breitbart London after the march, an elected member of the Cologne City Council who had been on the march and was dismayed by the violent infiltrators spoke of police agent provocateurs, a tactic that has been the matter of discussion and
controversy
in Germany of late.
While many in the march found amusement in the extremely large number of police officers who had been deployed to the demonstration compared to the bare-bones 143 officers who were expected to keep the peace on New Year's Eve, the speakers at the rally were entirely sympathetic towards the police.
Thanking the officers for protecting them from the violent left-wing "antis" who have been the plague of other PEGIDA demonstrations across Germany, the speakers acknowledged the decision to deploy less officers at New Year's Eve had been a political one, with a request for backup controversially
denied
by the minister for the interior.