Egypt: Harassment of Christian girls sparks use of alliterative euphemisms in mainstream media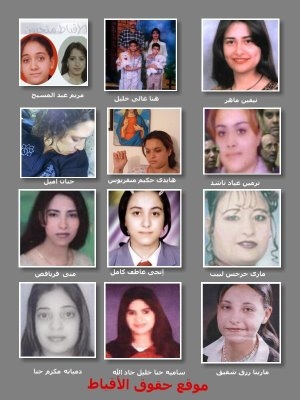 "
Sectarian strife
," once again, which has quickly become
a stock media phrase
.
The
assault on Lara Logan
in Tahrir Square was a rude awakening for much of the West to the nature of the problem faced by native and foreign women in Egypt on any given day. Sexual harassment is so severe and pervasive in Egypt that one could all but call it a sick national pastime.
The women are always
blamed for somehow falling short of Islamic expectations
on "modesty" or the segregation of the sexes, which is taken as an excuse to target them: they have forfeited or shown themselves unworthy of protection (as this
propaganda poster
makes clear), and thus become targets.
The issue is thus thoroughly suffused with Islamic supremacism, and so Christian girls are all the more a target in Egypt not only for harassment, but
abduction, forced marriage, and conversion
. "Egypt: 'Harassment of Christian girls' sparks sectarian strife," from AdnKronos International, July 1:
Samalout, 1 July (AKI) - Security forces on Friday quelled sectarian clashes that broke out late Thursday in central Egypt after local Muslims allegedly harassed some Christian girls, Al Masry Al Youm daily reported.
Eyewitnesses said fighting began in the village of Qolosna in Upper Egypt's Minya Governorate after several Muslim taxi drivers reportedly bothered a group of Christian girls.
Everything we have seen out of Egypt suggests "bothered" is the understatement of the week.
Shots were fired in the air and the injured - four Christians and three Muslims, according to security sources - were taken to hospital in the nearby town of Samalout.
Security sources said 10 people were arrested over the clashes and are being investigated.
Eyewitnesses said the military had imposed a local curfew starting after Friday afternoon prayers.
Coptic Christians account for about 10 percent of Egypt's population and have been repeatedly targeted by Muslim extremists
from:
http://www.jihadwatch.org/2011/07/egypt-harassment-of-christian-girls-sparks-use-of-alliterative-euphemisms-in-mainstream-media.html